Tashkent and Sport Development
Tashkent is the capital of Uzbekistan with over 2 million inhabitants. The beautiful city became one of the strategic centers in Central Asia since it is an economic stronghold. The city was known for its many parks before the trees were cut as part of a campaign and numerous fountains. Tashkent gradually removed traces of Soviet symbols in the city by replacing them with new monuments. The city came into the spotlight in 2015 because it hosted one of the major competitions in fencing – The Cadet and Junior Fencing World Championship. The championship was beautifully organized, and the contestants and spectators went home with great impressions of the city as a host. The event was held in one of the biggest gymnastics complexes in the world, the GSC in Tashkent.
Uzbekistan is a country that cherishes sports, so it gives a lot of room to sports activities and individual athletes to thrive and to participate in competitions worldwide. Development and promotion of sports and athletes is written in capital letters in the country, and since its independence in 1991, the country provided a professional environment for its athletes, enabling training, venues, and referees. Since the country is known as the country of young population, Uzbekistan and its capital try to use that potential to enhance sports activities.
Over the years, Uzbek athletes managed to represent the country in the best light in different Olympic disciplines by bringing back home gold six times, silver five times, and the bronze medal ten times since the Atlanta Olympic Games in 1996.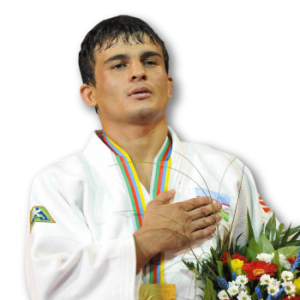 Some of the athletes that madeUzbekistan proud are Rishod Sobirov (judoka), Artur Taymazov (wrestler), Sergei Pankov (swimming), Nigina Abduraimova, (tennis), Ulyana Trofimova (gymnast), etc.
Fencing, boxing, wrestling, and other types of sports became so well-established and well-structured that they feature great venues for major sports events and competition, and that is why Uzbekistan is often the host of many tournaments, world cups, and championships.
Uzbekistan entrusted the Ministry of Culture and Sports with the promotion and development of sports, and it has done a good job so far. In 2002, Uzbekistan established the Fund for the development of children's sports which is supposed to support physical education through enabling the ideal conditions for children to pursue their sport dreams. Different sport buildings and venues were built for that purpose, and a part of the funds also goes to the education of trainers and coaches. Uzbekistan tried to increase the number of female coaches through different initiatives by, for example, establishing promotion ranks, and it worked.
With every year, Uzbekistan's athletes become more successful securing more medals at competitions thanks to the great sports infrastructure that the government provided.